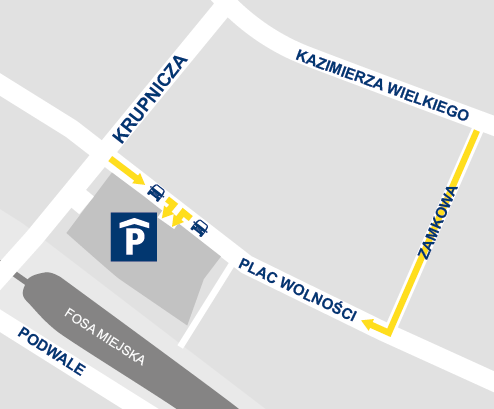 About the NFM Car Park
The 24-hour parking lot located by the National Forum of Music offers as many as 662 parking spaces, including spaces for the disabled.
Entrance to the parking located at Wolności Square is from Krupnicza Street or Kazimierza Wielkiego Street (through Zamkowa Street), and exit towards Świdnicka Street (through H. Modrzejewska Street) or towards Kazimierza Wielkiego Street.
The perfect location allows you to park your car in a safe place and go straight from the parking lot to one of the most modern buildings housing the National Forum of Music. Additionally, a direct elevator from the parking lot allows us to go to pl. Wolności Street.
We offer attractive prices for short-term parking, as well as permanent parking around the clock.

24/7 Comprehensive customer service – we work 24 hours a day, 7 days a week

The car park is equipped with a system of surveillance cameras and intercoms. Additionally, the car park is under constant supervision of the building security.

Payment is made at the automatic payment machines by card or cash.